Stevia Powder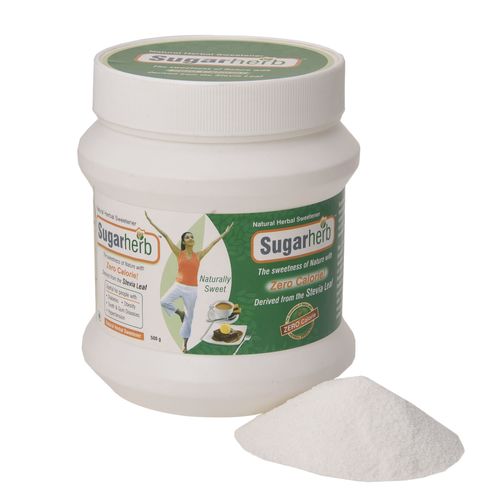 Stevia Powder
Price And Quantity
Product Specifications
Product Description
Stevia Powder
Useful to people with
Diabetes
Tooth & Gum Diseases
Hypertension
Skin Problems
Obesity
Hair Problems
Sugarherb is a 100% natural, Stevia-based, herbal Sweetener for one's daily dietary supplement. Apart from its dietary use, Sugarherb is also widely applicable in the baking, food processing, beverages and pharmaceutical industries. Sugarherb - Naturally Sweet Sugarherb is extracted from the herb, Stevia Rebaudiana - an indigenous plant belonging to the Chrysanthemum family -that offers an ideal alternative to sugar & other sugar substitutes. The leaves of the Stevia shrub are the source of the Glycoside Stevioside, which produces a sweet taste. Stevia-based sweeteners have a history of safe use in a wide variety of beverages & food in India, Japan, Korea, China and many South American countries.
Cost effective solution for all your sweetening needs \
Table top sweetener - for tea, coffee, etc.
Soft drinks, fruit juices, ice creams yogurt.
Cakes, biscuits, pastries, pies and other baking uses.
Jams, sauces, pickles, jellies, desserts.
Chewing gum, candies, confectioneries.
Tooth paste, mouthwashes - plaque retardant/cavities prevention
Alcoholic beverage enhancer (aging agent and catalyst)
Sea-foods, vegetables
Skin creams
Tobacco additive and flavourant
Available In:
25 & 50 Sachets pack
100 Nos. pallet dispenser
Also available in 100gm, 500gm & 1kg jar & bulk
DESCRIPTION

PRICE
(In Indian Rupee)

PACKING

CATEGORY

QUANTITY

Sugarherb 25 Sachets

175

Box

Sachets




Sugarherb 100 Tablets

200

Container

Tablets




Sugarherb 100 Grams

320

Jar

Powder




Sugarherb 50 Sachets

245

Box

Sachets




Sugarherb 500 Grams

1300

Jar

Powder



Instructions For Online Shopping

To add item in to the cart, Please check the checkbox.
If you did not check the checkbox, Item will not be added to the cart.
Once you have select the items, please click the "ADD TO CART" button.
Maximum total cart weight is 50 KG.
Trade Information
7 Days

All India South India Central India West India North India East India Gujarat Karnataka Kerala Lakshadweep Mizoram Meghalaya Manipur Andhra Pradesh Bihar Chandigarh Daman and Diu Goa Jharkhand Odisha Punjab Assam Delhi Dadra and Nagar Haveli Andaman and Nicobar Islands Arunachal Pradesh Chhattisgarh Haryana Himachal Pradesh Jammu and Kashmir Madhya Pradesh Maharashtra Nagaland Rajasthan Sikkim Tamil Nadu Telangana Tripura Pondicherry Uttar Pradesh Uttarakhand West Bengal