Organic Chamomile Buds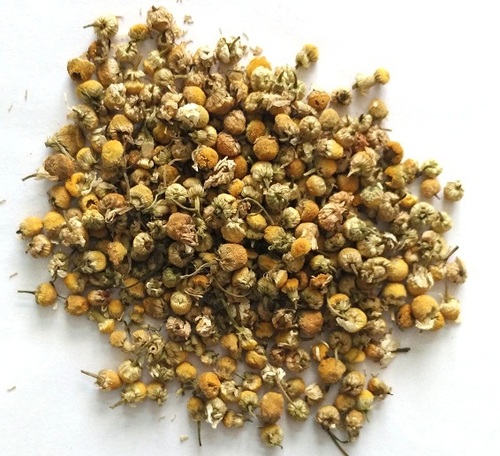 Organic Chamomile Buds
Price And Quantity
Product Specifications
Product Description
Description
Our Organic Chamomile Buds/Flowers are processed with this unique Advanced Low Temperature Cold Drying Technology (LTCD) which incorporates stringent process of drying in a sterilized closed room at low temperature which ensures that the product retain their required color ,flavor, aroma, medicinal values and extended shelf life properties.when compared with sun dried or freeze dried , our products are found to yield all the qualities like color, flavor, aroma, taste, rehydration, nutritional values and increased shelf life property to an unmatchable extent taking it very close to the fresh ones and makes our technology the best drying technology of the present era.
GRAM

PRICE
(In Indian Rupee)

PACKING

CATEGORY

QUANTITY






1 kg

2300

Large Box

Flakes



Instructions For Online Shopping

To add item in to the cart, Please check the checkbox.

If you did not check the checkbox, Item will not be added to the cart.

Once you have select the items, please click the "ADD TO CART" button.

Maximum total cart weight is 50 KG.
Uses
Mostly used as an infusion of tea. It is used as a tonic, stomachic, anodyne( relieves pain), and anti-spasmodic.
As a volatile oil it has an anti-inflammatory and antispasmodic properties which help relieve
Chamomile has a powerful soothing and sedative effect which is harmless. It is used for agitation generated by too much mental activity and too little physical activity. Also used in insomnia, as it helps to promote sleep when changing time zone while traveling. inflamed and irritated conditions, tension and colicky pains.
Its strong antiseptic properties make it invaluable for reducing swelling of the face due to abscess or injury.
It is also used as a mouthwash for gingivitis.
The herb itself is an ingredient in many herb mixtures. The pure and gentle powdered herb is convenient for everyday use. The herb is also used for a lotion, for external application in toothache, earache, neuralgia, etc.

Specifications Storage Conditions
| | |
| --- | --- |
| Temperature | < 23C |
| Relative Humidity | 65% Max. |
| General | Keep closed in a dry warehouse, free from infestation and not exposed to direct sunlight, Do not store adjacent to material that gives off strong odors |
Testing Requirements
| | | |
| --- | --- | --- |
| Parameter Tested | Limits | Units |
| Standard plate count | < 40,000 | CFU/g |
| Coli forms | Absent | CFU/g |
| E. coli | Absent | CFU/g |
| Yeast & Molds | Max. 100 | CFU/g |
| Salmonella spp. | Absent | CFU/g |
| Moisture | < 10 | % |
Packaging Details


Container

Glass bottles

Small box

Large box

Industrial boxes of 2 x 10 kgs. In a poly linear bags duly packed in 7 ply corrugated cartons

Bag Markings

Chemomile Flakes/ Granuales -cold- dried, product code, weight in kgs.
Trade Information
1 Week

Asia Australia Central America North America South America Eastern Europe Western Europe Middle East Africa
Andhra Pradesh Bihar Chandigarh Daman and Diu Goa Jharkhand Odisha Punjab Assam Delhi Dadra and Nagar Haveli Andaman and Nicobar Islands Arunachal Pradesh Chhattisgarh Haryana Himachal Pradesh Jammu and Kashmir Madhya Pradesh Maharashtra Nagaland Rajasthan Sikkim Tamil Nadu Telangana Tripura Pondicherry Uttar Pradesh Uttarakhand West Bengal All India South India Central India West India North India East India Gujarat Karnataka Kerala Lakshadweep Mizoram Meghalaya Manipur