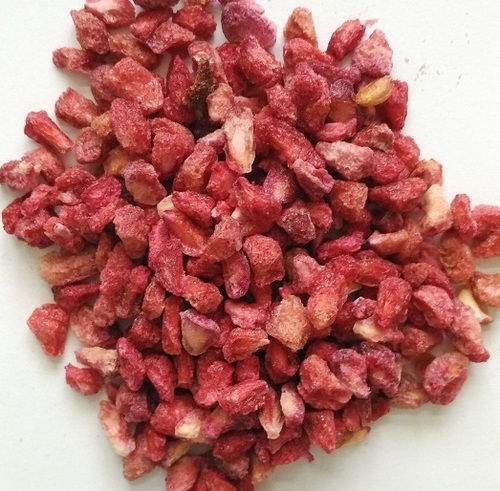 Freeze Dried Pomegranate kernels/powder
Price And Quantity
10 INR

600.00 - 5000.00 INR
Product Specifications
Product Description
Description
Punica granatum, is a fruit-bearing deciduous shrub or small tree growing between five and eight meters tall.
Our Fruits, Vegetables, Herbs, Flowers are processed with unique Advanced Low Temperature Cold Dried (LTCD) technology and are marketed in Cubes, Flakes, Strips, Granules and Powder form -when compared with sun dried or freeze dried , our products are found to yield all the qualities like color, flavor, aroma, taste, rehydration, nutritional values and increased shelf life property to an unmatchable extent taking it very close to the fresh ones and makes our technology the best drying technology of the present era.
Instructions For Online Shopping

To add item in to the cart, Please check the checkbox.
If you did not check the checkbox, Item will not be added to the cart.
Once you have select the items, please click the "ADD TO CART" button.
Maximum total cart weight is 50 KG.
Uses
The compounds in pomegranates may also have uses in fighting prostate cancer.
It helps make the hemoglobin in the blood which means it improves the blood in the human body.
The juice of wild pomegranates yields citric acid and sodium citrate for pharmaceutical purposes.
Extract of pomegranate seed contain more antioxidants.
Pomegranate fruit is an abundant storehouse of important nutrients.
Pomegranates are a source of necessary vitamins and minerals
The fruit has vitamin C, an antioxidant that is necessary for cell development.
The pomegranate fruit is low in calories, high in fiber, high in vitamins and high in photochemical that may promote heart healthiness and help to prevent cancer.
Pomegranate seeds are also used in salads and also used in dressings for various desserts.
Fruit are useful in anaemia, hyperdipsia, anorexia, pharyngodynia, pectoral disease, good for vomiting, ulcers, scurvy leucorrhoea, worms etc..
Specifications Synonyms :

English : Pomegranate
Sanskrit : Dadima
Hindi : Anar, Dhalim
Family : Punicaceae
Contact Us
3/10-A, BIDC Estate, Gorwa, Vadodara, Gujarat, 390016, India
Phone :+918037304147