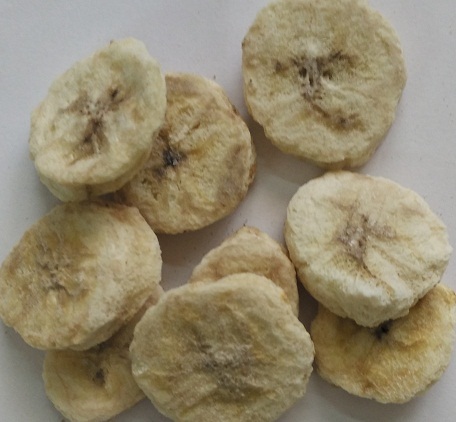 Freeze Dried Banana Slices
Price And Quantity
Product Specifications
Product Description
Description
Aum Fresh Banana Powder and Freeze Dried Banana Slices are processed with unique Advanced Low Temperature Cold Dried (LTCD) technology and marketed in dried banana prices and Powder form - when compared with sun dried or freeze dried , our products are found to yield all the qualities like color, flavor, aroma, taste, rehydration, nutritional values and increased shelf life property to an unmatchable extent taking it very close to fresh Bananas and makes our technology the best drying technology of the present era.
Active Components- Potassium, Calcium

Nutrition Value:-


| | |
| --- | --- |
| Nutrition Value | Per 100 gm |
| Calories | 299 Kcal |
| Fat | 0.6 gm |
| Protein | 3.6 gm |
| Carbohydrates | 69.9 gm |
| Sugar | - |
GRAM

PRICE
(In Indian Rupee)

PACKING

CATEGORY

QUANTITY

1 kg

2200

Large Box

Powder



Instructions For Online Shopping

To add item in to the cart, Please check the checkbox.
If you did not check the checkbox, Item will not be added to the cart.
Once you have select the items, please click the "ADD TO CART" button.
Maximum total cart weight is 50 KG.
Uses
Banana is the world's most consumed fruit and our Banana Powder has a myriad of uses

Use Banana powder as supplement to treat your intestinal disturbances such as irritable bowel syndrome at home. Bananas feed the natural acidophilus bacteria of the bowel, and have a mild laxative property. This is a safe and natural product to restore the natural balance in your stomach
It is used as a remedy of constipation in both children and adults alike and has been known to help in curing diarrhoea and dysentery, even to heal the intestine lesions!
Banana power is a natural source high in potassium and many other essential nutrients and can be used to treat children suffering from malnutrition; Make banana porridge for babies with milk, Banana bread or cookies as a treat, and even banana halwa for you foodies!…
Ever wished for a healthy cake, low sugar bread or low calorie cookies? Try Aum Fresh's banana powder instead of regular all purpose flour or Maida to replace up to 20 percent of the sugar in many quick-baked goodies, muffins and other sinful treats, which both boosts the potassium and fiber content of these foods and reduces their overall sugar content.

Specifications Storage Conditions
| | |
| --- | --- |
| Temperature | < 23°C |
| Relative Humidity | 65% Max. |
| General | Keep closed in a dry warehouse, free from infestation and not exposed to direct sunlight, Do not store adjacent to material that gives off strong odors |
Testing Requirements
| | | |
| --- | --- | --- |
| Parameter Tested | Limits | Units |
| Standard plate count | < 40,000 | CFU/g |
| Coli forms | Absent | CFU/g |
| E. coli | Absent | CFU/g |
| Yeast & Molds | Max. 100 | CFU/g |
| Salmonella spp. | Absent | CFU/g |
| Moisture | < 10 | % |
Packaging Details
Container

Glass bottles

Small box

Large box

Industrial boxes of 2 x 10 kgs. In a poly linear bags duly packed in 7 ply corrugated cartons

Bag Markings

Banana-cold- dried, product code, weight in kgs.
Contact Us
3/10-A, BIDC Estate, Gorwa, Vadodara, Gujarat, 390016, India
Phone :+918037304147