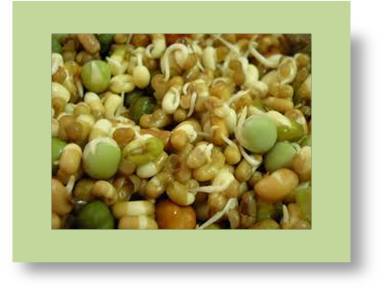 Sprouted Grains
Product Description
Sprouting Grains modify many of the grains' fundamental nutrients, including folate, fiber, B vitamins, vitamin C, and essential amino acids. Less allergenic to protein with grain macromolecules sensitivities, it comes with umpteen healthful benefits. It fights diabetes, depression, fatty liver disease, cardiovascular disease, and weariness in nursing mothers. The enzyme action of these products helps to change the endosperm's starchy carbs into simpler and smaller components, which are more well digested. These have been demoed to enhance the concentration of a grain. Preliminary research declares that sprouted grains may better blood sugar levels.
Can be consumed in its raw form, cooked form or ground into baked and flour.

A comprehensive nutritional poke than day-to-day wholemeal flour, significantly effortless to digest.

Can be delicious when consumed with raw and otherwise unrefined.

Can be served as salads and seasoned with pepper, spices, unrefined olive oil, flakes, salt and a squeezing of lemon.

Tasty when mixed with other vegetables for salads or sandwiches, can be used in the ratio of 1:1 ratio for whole grain flour.

Well-suited for warm breakfast cereals and porridge.


Specifications
Botanical Name: Sprouted Grains
Specifications Storage Conditions
| | |
| --- | --- |
| Temperature | < 23°C |
| Relative Humidity | 65% Max. |
| General | Keep closed in a dry warehouse, free from infestation and not exposed to direct sunlight, Do not store adjacent to material that gives off strong odors |
Testing Requirements
| | | |
| --- | --- | --- |
| Parameter Tested | Limits | Units |
| Standard plate count | < 40,000 | CFU/g |
| Coli forms | Absent | CFU/g |
| E. coli | Absent | CFU/g |
| Yeast & Molds | Max. 100 | CFU/g |
| Salmonella spp. | Absent | CFU/g |
| Moisture | < 10 | % |
Container

Glass bottles

Small box

Large box

Industrial boxes of 2 x 10 kgs. In a poly linear bags duly packed in 7 ply corrugated cartons

Bag Markings

Sprouted Grains-cold- dried, product code, weight in kgs
Contact Us
3/10-A, BIDC Estate, Gorwa, Vadodara, Gujarat, 390016, India
Phone :+918068215031